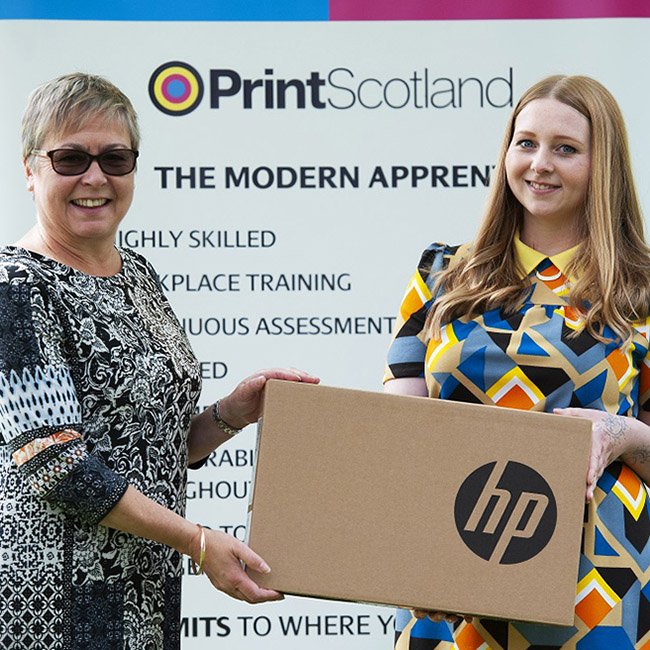 Dalry mum, Erin McCarthy, has won the accolade of Level 3 Pre Press Apprentice of the Year at the 2019 Print Scotland Apprentice of the Year awards held in Glasgow earlier this month.
Currently on maternity leave from Amer Sports in Irvine, North Ayrshire, where she undertakes logo design related work, Erin is the mother of two boys, Damien, 6 and Oran, 7 months. Her award celebrates outstanding skill in the pre-printing aspects of the trade, such as graphic design, digital print and origination.
Erin studied art at college and despite being a busy mum, managed to cram her two-year apprenticeship into one year. She said:
"I am very pleased that all the effort I have put into learning as much as possible about the printing trade has led to me being given this award. I am keen to continue adding to my skills and believe there is a very bright future for the print industry in Scotland."
The award was sponsored by Antalis and HP and Erin was rewarded with a Samsung tablet and £100 of Amazon vouchers.
Print Scotland, the trade association and voice of Scotland's graphic communication industry has been holding holds its Scottish Print Apprentice of the Year award for the last four years. The occasion is part of its mission to represent the Scottish print community and to highlight the profile of future leaders of the industry. James Vallance, training consultant at Print Scotland said:
"Erin's sterling efforts in getting to grips with the challenges of a rewarding career in the design for print have been rightly rewarded. Her family and friends can be very proud of her achievements. The print industry in Scotland is demonstrating slow but steady signs of growth year-on-year, and nowhere shows this more than in apprenticeships. Already this year our members have taken on 20% more apprentices than last year."