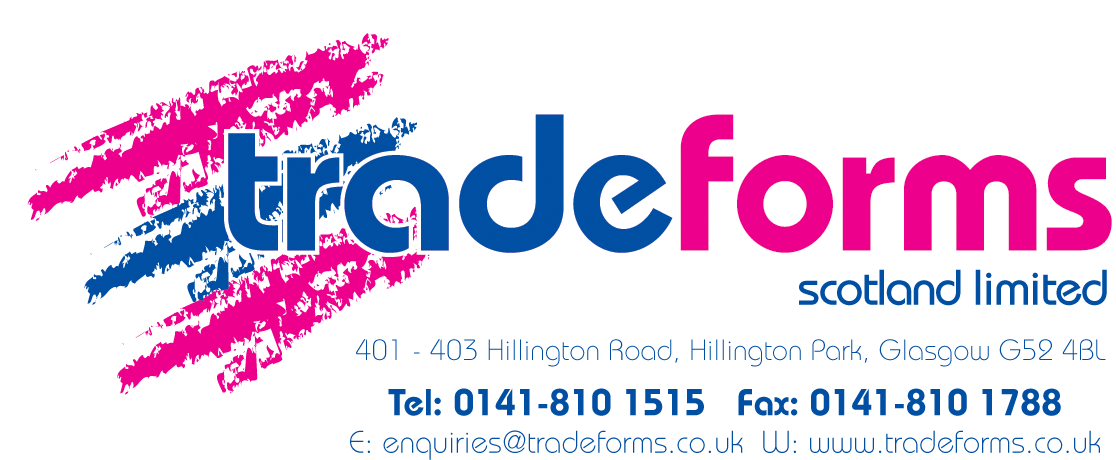 Address:
401 Hillington Road
Hillington Ind Est
Glasgow
G52 4BL
Tel:

0141 810 1515

Website: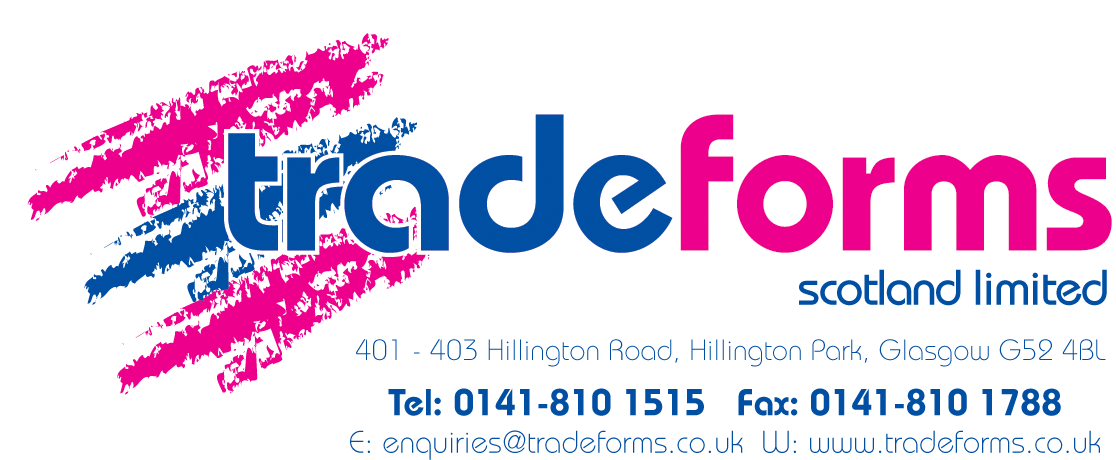 Tradeforms (Scotland) Limited is a Glasgow based printing company. Along with his family, Tom Connell has been running the business since he created it in 1990. The total emphasis on great customer care and attention to detail is one that is still understood, implemented and maintained at all levels within the organisation.
Tradeforms' recipe for success is our philosophy of offering a comprehensive single source service or 'one stop solution' to our clients. Over the years, we have diversified our in-house capability to match our customers ever changing and more sophisticated requirements.
Everything from an order for conventional stationery to computer forms, books and pads, high quality colour leaflets & brochures, to presentation binders and promotional & display units will be produced with equal care and attention.
Continuous Stationery – Our speciality – We can produce continuous stationery in numerous sizes. We can quote for in line gluing, perforating, numbering, file hole punching and finger lift taping, all produced in line without extra finishing costs. All sheeted laser forms are UV dried.
Pads and Books (including carbonless) – Cut sets come straight off the collator, glued, punched & numbered. Our finishing options include wire stitching or gluing incorporating wrap around joined writing shields, printed covers and spine taping. All produced in-house, available in standard and non standard sizes.
Trade Finishing – Being a trade printer, we frequently bind brochures and booklets for other print companies using our state of the art 40pp booklet making machines.
Numbering, Barcoding and Personalisation – Our capabilities include sequential numbering in any position, all common skip sequences as well as multiple and extra large numbering. We also have the ability to barcode, personalise and modulus number.
Digital Printing – Our equipment list boasts 3 full colour digital printing machines, capable of printing a wide variety of products. We also have 3 high volume black and white digital printing machines.
Mailing – We cater for all kinds of mailing requirements.