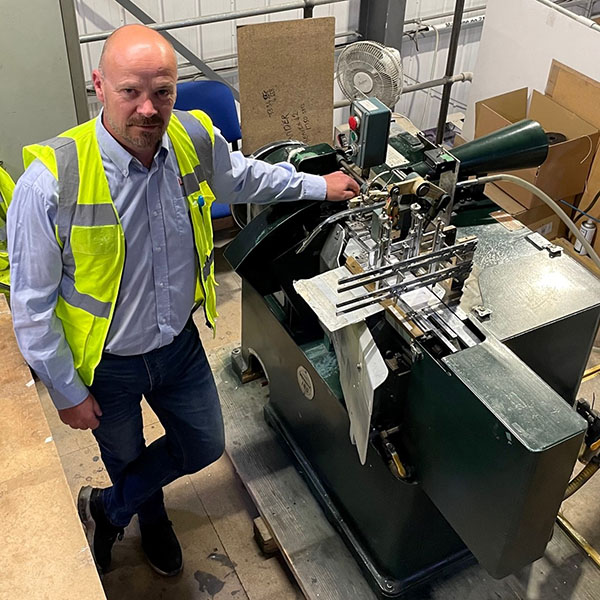 Edinburgh-based print finisher, Alex Porteous, takes pride in his company's focus on investing steadily in new, innovative equipment to undertake the wide range of jobs his print customers ask of him.
As well as supplying a highly automated trade print finishing service of superior quality and service using the latest equipment, Alex and his team at Taskforce (Finishing and Handling) Limited are always on the lookout for ways of improving both efficiency and effectiveness. They also boast a Handwork Department which undertakes the jobs, be it gluing, hand-stitching, drilling, padding or packing of materials, where a superior finish can only be obtained by skilled hands.
So, when a number of customers approached him to attach string to whisky tags he researched the market and looked at all his options: attachment by hand was possible but too time-consuming, while a Swiss-made machine, then available only from China, was too lightweight and could not do the job to the required volumes.
A bit more research led to Alex's discovery of a second-hand US-manufactured Graeber Whirlwind 185 Tag Stringing machine, located in California and which, though 47 years old, is fully re-conditioned and could really get the job done. Following a couple of visits, the second one with a colleague he wanted trained in its operation, Alex finally negotiated the acquisition and import of the machine to Scotland.
He said:
It took six months before we finally had it installed and operational, but the payback has been spectacular since it can complete the string tagging process ten times faster than all other methods we tested.

The paradox of a company like ours, wholly dedicated to adopting the latest technology, then having a major issue resolved by use of a machine that is nearly 50 years old, is not lost on me, but the outcome, a range of very happy customers and, as a direct result of its use, a 10 per cent uplift in 2021 turnover, makes it clear that in the print finishing sector, you always have to be open to all possibilities and flexible in your approach to problem solving.
Formed in 1990, Alex took over Taskforce as MD in 2013 having joined the business in 1997. Based in the heart of Edinburgh, the company currently has some 28 team members and is dedicated to fulfilling the needs of the printing trade throughout the UK.
We have been winning quite a bit of work from new customers throughout the country recently. The Covid19 pandemic saw lots of printers in Scotland and England close their doors, so it has been vital that we seek new business by demonstrating that we are the go-to choice for printers by, for example, optimising our speed in getting jobs out the door by making overnight pallet deliveries to customers in locations such as Sussex, where we recently acquired an excellent new customer.

With ISO 9001 accreditation and a track record of innovation, we were, again for example, first in the UK to install the Muller Amigo Plus Perfect Binder and first in Scotland to offer a miniature / pharmaceutical folding service, so we are in great shape to win more work. Added to this our re-investment policy is also starting to pay dividends. We have also recently invested in a new Moll folder gluer and a new 12 clamp inline binding line with PUR.

The biggest issue now though, as it is throughout our industry, is recruitment. We recently started a female apprentice, Sophie North, who is doing brilliantly and is training as a Post press finisher and we definitely want more like her.
For more information, please contact Alex Porteous at Taskforce via email: Alex@taskforce.org.uk or visit his website taskforce.org.uk.
A version of this story appeared in Print Week in October 2022 here.