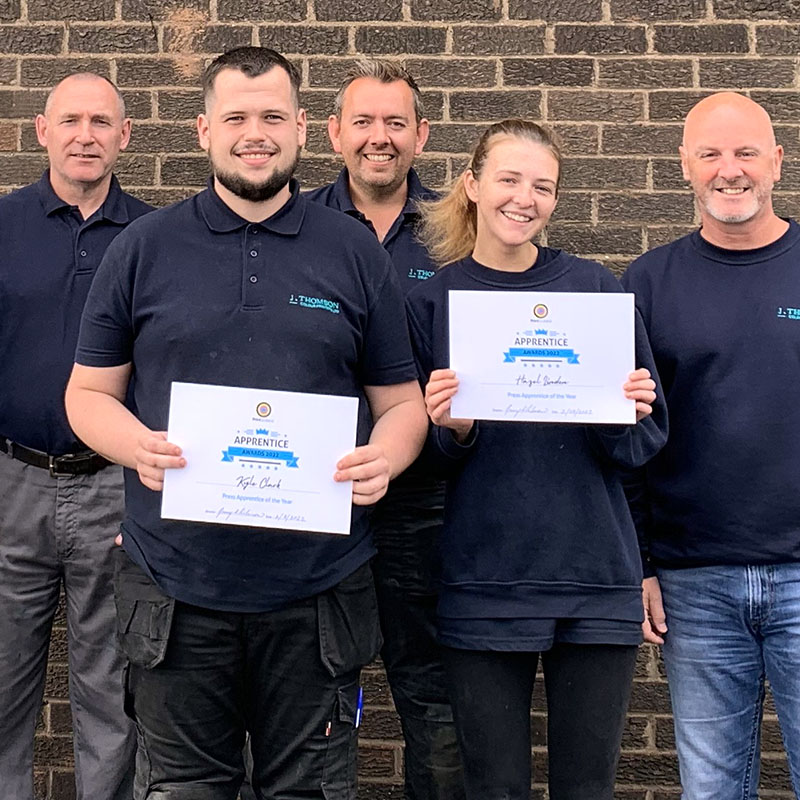 Print Scotland, the trade association and voice of Scotland's graphic communication industry, has honoured four outstanding young apprentices in its seventh annual Scottish Print Apprentice of the Year awards.
The occasion is part of its mission to represent the Scottish print community and to highlight the profile of future leaders of the industry.
Garry Richmond, Director of Print Scotland, said:
We continue to believe that the industry needs to employ more apprentices to sustain Scotland's print sector. Our approach includes doing so by encouraging more apprentices from an increasingly diverse range of backgrounds.  These awards recognise outstanding achievement amongst the young people who represent the next generation of our leaders of Scotland's print sector.

Print Scotland's sincere thanks goes, once again, to our sponsors David McGinlay of Muller Martini and Stephen Paul of Antalis for supplying the prizes. I should also like once again to express our debt of gratitude to Jim McKenzie of Ultimate Learning Solutions who has done a tremendous job in his new role as Assessor of the Apprenticeship Awards programme.
Jim said:
It is a great pleasure to be involved in the work-based learning apprenticeship scheme which sees young people learning trade and core skills that will stand by them for life
The winners of the 2022 Apprentice of the Year Awards were:
Overall Apprentice of Year – Christopher Dinnes, Captivate Creative, Livingston.
Post Press Apprentice of the Year – Craig Knight, FLB Group, Dalkeith.
Press Apprentice of the Year – Hazel Linden (joint award), J Thomson Colour Printers, Glasgow.
Press Apprentice of the Year – Kyle Clark (joint award), J Thomson Colour Printers, Glasgow.
Susan Graham, Print Scotland's President, congratulated the winners and wished them highly successful careers as the industry's leaders of tomorrow. She said:
Once again, we salute these outstanding young print apprentices and continue to celebrate their achievements in acquiring future-proof skills to take Scotland's print industry forward.

The print industry in Scotland has a real future across a range of skillsets and needs a constant flow of high-quality and motivated apprentices in even greater numbers, and from an increasingly diverse range of backgrounds, to fulfil its potential.
Print Scotland provides training for Modern Apprentices through the Scottish Training Scheme, which provides a grant from the Scottish Government to cover the cost of the training. It also provides a range of Scottish Vocational Qualifications (SVQs) as well as Modern Apprenticeship (MA) certification.
Details on each of the winners are as follows:
Christopher Dinnes, 23, Overall Apprentice of the Year, Captivate Creative, Livingston.
Christopher, from Armadale in West Lothian is now in his second year doing SVQ Press at SCQF Level 3 in his uncle's Livingston-based company Captivate Creative, which specialises in short run digital printing, signage, banners, flags, exhibition products and branded merchandise. He said:
I've never really realised the variety that comes under the heading of print. So far, I have been involved in digital, wide format and finishing.

I now want to progress my skills and get to point where the work produced is as good as it can be. In five years, hopefully, I would like to be in a management position, leading other employees and apprentices and sharing opportunities with other young people like me.
Craig Knight, 19, Post Press – Apprentice of the Year, works for FLB Group Dalkeith and entered the world of print via a job advert in the local newspaper.
A highlight of his apprenticeship has been working with and learning from experienced operators. He said:
One of the most important things is to have close attention to detail to produce our products to the required standard. I particularly remember being proud of the fact that I had the opportunity of working on jobs produced for Harrods, the internationally known department store in London's Knightsbridge.

My ambition is to continue learning my trade and to progress within my role. And I would recommend a printing apprenticeship to others. It is a good industry to work in and very interesting to see all the processes involved in producing printed products.
Hazel Linden, 26, Press Apprentices of the Year (joint award) works for J Thomson Colour Printers in Glasgow.
Hazel explored several career options, including acting and working in a law firm, before settling into her role of printing products such as leaflets, brochures, programmes, and calendars. She said:
In lithographic printing an image of the content you want to produce is placed on an aluminium plate which is then covered in ink and transferred to the sheet. This process can be used to print on paper, cardboard or other materials and is the most economical way to print books, brochures, leaflets, and a huge range of other items.

My work involves running an operational KBA lithographic printing machine the size of a ship. Some of my daily tasks include filling ink ducts, locating materials, changing rollers, adjusting roller settings, blanket changes and operating machinery using computerised technology.

Seeing my print work in real life settings like a banner, poster or as a restaurant menu, for example, gives you a real sense of pride and I would recommend an apprenticeship to others, though it depends on the individual as you need an open mind. I never thought I would work in a printing plant, but I was willing to give it a go and really love it.

At the moment, a qualified printer will supervise and oversee my work to double check everything but eventually I will run it once I am qualified. I really like the job and the people I work with, though I am the only female in the team, which I found rather surprising.
Kyle Clark, 22, Press Apprentices of the Year (joint award) works for J Thomsn Colour Printers in Glasgow.
Kyle entered the industry at the suggestion of a member of the J Thomson Colour Printer team and doesn't regret it for a minute. He said:
I enjoy the variety of jobs that we work with here and being able to be left to work on your own skills within the machine.
Once qualified: Kyle would like to be able to progress further in his knowledge within the print industry and would recommend a print apprenticeship because it is an interesting job and there are lots of different departments apprentices can work in.
Of the many projects he has worked on he is most proud of producing Pantone Matching System (PMS) work on the ultra-violet (UV) press.
For more information, please contact Garry Richmond, Director of Print Scotland garry@print-scotland.com