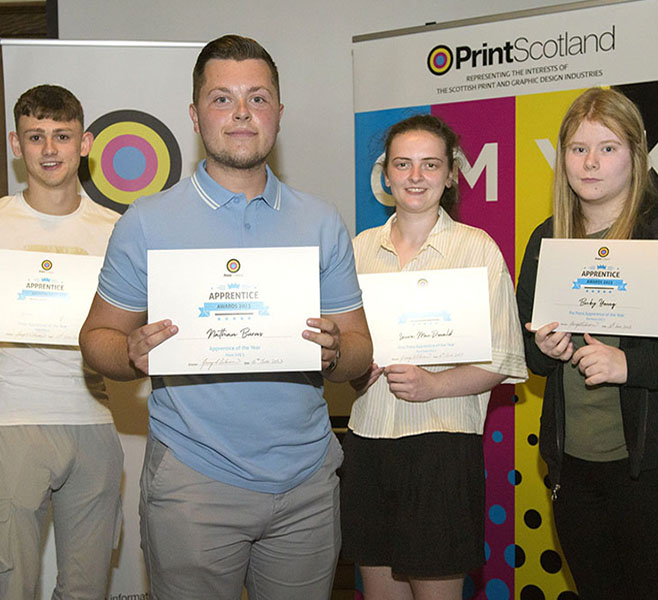 The vital importance of apprentices to the future health and prosperity of the printing industry in Scotland has been recognised right across the sector in the eighth annual Scottish Print Apprentice of the Year awards.
Four outstanding young apprentices received the approbation of their peers at the event earlier this month (June 16) organised by Print Scotland, the trade association and voice of Scotland's graphic communication industry.
As well as representing Scottish print community and raising the profile of future leaders of the industry, the awards ceremony highlighted the way in which the industry is increasingly being seen as rewarding and socially worthwhile career option among younger people.
Garry Richmond, Director of Print Scotland, said:
The number of young people seeking life opportunities in the printing industry is growing all the time and 2023 could be a record year for apprentices, which is extremely encouraging. Employers are well aware of the imbalance in the age profile of their workforces and are very conscious of the need to introduce fresh, new talent, with new ideas and enthusiasms. Such people will be the future of the industry. The sector has significantly enhanced its support for apprentices the last two years and is definitely seeing the benefit of this forward-looking approach for employers and individuals. Now, we hope that the Scottish Government and its agencies will also loosen the purse strings to allow us to create more opportunities for our young people.
The winners of the 2023 Apprentice of the Year Awards were:
Overall Apprentice of Year – Nathan Burns, CCL Design, East Kilbride
Pre-Press Apprentice of the Year – Becky Young, J Thomson Colour Printers, Glasgow
Press Apprentice of the Year – Fraser Galloway, NSD Labels, Dalkeith
Post-Press Apprentice of the Year – Laura Macdonald, Bell and Bain, Glasgow
Susan Graham, Print Scotland's President, said:
As well as congratulating these very worthy winners, I want to thank all the employers who take on modern apprentices and the production teams and managers who take them under their wing to teach while hitting their own targets. Mentors have such an important role. The life choice of the apprentices is to be celebrated. We need to grow our own to control our own success. To illustrate the potential in the industry, I have just promoted someone who started as a graduate apprenticeship to commercial director and someone who started as an apprentice to manufacturing director. A big thank you also to Training Officer Jim McKenzie. He has modernised the whole process. It is no longer paper-based and is now a flexible model which works for everyone. His industry knowledge is second to none. Finally, and far from least we would like to thank our sponsors: Antalis, Muller Martini and CCL Design who have made this Award ceremony the success it has been.
David McGinlay, of Muller Martini said:
As a Group, we are very proud to support young people across the world to help drive the latest technology and trends. Sustainable, professional, solid, we will always support Print Scotland in the quest to attract young people to our progressive industry.
His remarks were echoed by Stephen Paul of Antalis:
We have sponsored the Scottish apprentice awards since their inception and are proud to continue to do so. These young people are the lifeblood and future of our industry and anything we can do to encourage them we would happily support. We wish all this year's apprentices a long and successful career.
Jim McKenzie said:
The industry is more creative than many people think, and it has a great future. Of course, it has changed, but so has every sector, and there are terrific opportunities for people who can rise to the challenge.
Print Scotland provides training for Modern Apprentices through the Scottish Training Scheme, which provides a grant from the Scottish Government to cover the cost of the training. It also provides a range of Scottish Vocational Qualifications (SVQs) as well as Modern Apprenticeship (MA) certification.
Details on each of the winners are as follows:
---
Nathan Burns, 25, Overall Apprentice of the Year, CCL Design, East Kilbride. Nathan, from Blantyre in Lanarkshire is now doing SVQ Press at SCQF Level 3 at CCL Design, whose team of designers, engineers and production staff develop and manufacture highly complex decorative plastic components and assemblies for the automotive and consumer sectors. He said:
My apprenticeship started in January last year and I am now working primarily on Flexographic printing machines. The days are always busy, but what strikes me is that everyone is enthusiastic and enjoy what they do. Seeing work that I have done in High Street shops is very satisfying. CCL is a huge company, with global offices and operations, and I definitely see a long-term career in print. I would very much recommend it as a career.
---
Becky Young, 18, Pre-Press Apprentices of the Year, J Thomson Colour Printers, Glasgow. Becky, from East Kilbride, is doing Pre-Press SVQ 3 at JTCP, which has been supplying high quality print products and service across the UK since 1952 and has now evolved into a sophisticated project management group. She said:
I didn't know anything about the printing industry until I started my apprenticeship, so just learning about it is enjoyable. I very much want to continue to work in the sector and learn. It's definitely better than just college or university, as you earn money at the same time as building a really good career. I really enjoy seeing anything that I have worked on in person.
---
Fraser Galloway, 20, Press Apprentices of the Year, NSD Labels, Dalkeith. Fraser, from Mayfield, Dalkeith, is doing Press SVQ 3 at NSD Labels, a Scottish labelling and packaging specialist which offers an end-to-end labelling service and has been printing and supplying labels in the Edinburgh area for more than 150 years. He said:
The people I work beside are all brilliant. They get the job done and they are really good at what they do. I enjoy getting moved about the factory working on different machines. HP Indigo WS6800 is my machine of choice at the moment, especially after getting the accreditation for it when in Barcelona. I am really enjoying where I am and see no reason to do anything different. It makes me quite proud seeing our labels on well-known beer and whisky brands, for example. When I left school, I didn't know what to do. I hadn't realised how much was involved in the printing industry, and the opportunities are massive.
---
Laura Macdonald, 27, Post-Press Apprentice of the Year, Bell and Bain, Glasgow. Laura, from Paisley, is doing SVQ 3 at Bell and Bain, which has been printing in Glasgow since 1851 and is now one of the oldest independent book and journal printers and binders in the UK. It is a trusted partner of several University Presses. She said:
The company has been great and my hours are a lot more social than in my previous job as a pizza franchise manager. I'm exposed to a huge variety of work. I've done well and then tried more and more machines and binders, creating more opportunities. I love learning new things and meeting new people. There is a lot of pressure but it is enjoyable. I have just been promoted to head of paper back binding and can see a very rewarding career ahead of me.
---