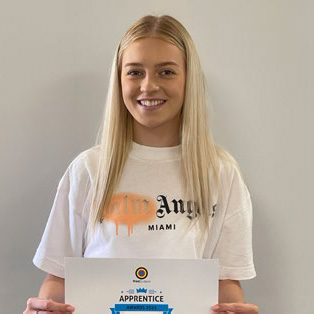 Rachel Lawrie embarked on an apprenticeship in the printing industry straight from school and has never looked back. She sums up her work as a print administrator with Midlothian-based FLB Group as "enjoyable and rewarding". The 20-year-old from Dalkeith, where FLB is headquartered, had no prior knowledge of the print sector and no relations in the industry to advise her, but she has excelled at her duties and is now a highly-regarded member of the 200-strong team.She said:
"What I love is that each day is different and I really enjoyed being able to go round the various departments at my work, to understand all the many processes involved in making the finished products"
"I was really surprised about how much work, and how many different stages, are involved in completing a project. I would like to learn the broader aspects of the printing industry and, through time, gain more qualifications and experience to help progress my career."
I would strongly recommend the apprenticeship route for people seeking a satisfying career, since it is a great way to learn different skills and gain valuable qualifications while earning a good wage.
Rachel's line manager, Estimating Team Leader, Stephen Hall, is unstinting in his praise of the way she has developed since she started with the firm. He said:
"Under exceptional circumstances over the past couple of years, Rachel has flourished amazingly well."
"Working part of her time from home hasn't prevented her from progressing with her knowledge of the business, whether in manufacturing support or other departments. She has gone from being a shy, reserved newbie to a much more positive and outgoing member of our team."
"There is not much more advice or tuition I could now give her on print administration in manufacturing support. Indeed, she could now probably teach me a thing or two. I would like Rachel now to take a more active role in print estimating, as I see this as her
next progression."
HR Manager Fiona MacDonald said that 36 staff members had come through the apprenticeship route and that the Group is planning to recruit four more apprentices this year.
Potential applicants should contact her at fmacdonald@flbgroup.com
For more information, visit flbgroup.com