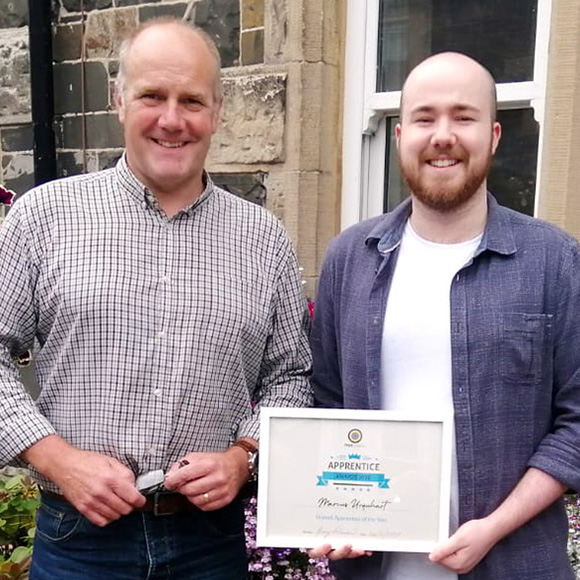 Outstanding Scottish print industry apprentices are honoured with Apprentice of the Year Awards
Print Scotland, the trade association and voice of Scotland's graphic communication industry, has honoured five outstanding young apprentices in its fifth annual Scottish Print Apprentice of the Year awards.
The occasion is part of its mission to represent the Scottish print community and to highlight the profile of future leaders of the industry.
Garry Richmond, Director of Print Scotland, said:
Scotland's print businesses have played a critical role in fighting and overcoming the COVID-19 pandemic. As essential workers, they have been at the forefront.

Given that role, it is more important than ever that the industry needs to employ more apprentices to sustain Scotland's print sector and the need to encourage more apprentices from an increasingly diverse range of backgrounds.

"These awards recognise outstanding achievement amongst the young people who represent the next generation of our leaders of Scotland's print sector. While we have been unable to hold our usual annual Apprentice Awards as an occasion, the certificates were mailed and presented to the winners by their respective managers and mentors.
The winners of the 2020 Apprentice of the Year Awards were:
Overall Apprentice of Year – Marcus Urquhart, Ivanhoe Caledonian (Musselburgh)
Level 3 Pre Press – Bradley Melvin, JJR Print (Dumbarton)
Level 3 Post Press – Scott McNee, Bell & Bain (Glasgow)
Level 3 Print Administration – Elizabeth Paul, Bell & Bain (Glasgow)
Level 3 Press – Russell Williamson, Alba Print (Dumfries)
Print Scotland's President, Iain Robertson, congratulated the winners and wished them highly successful careers as the industry's leaders of tomorrow. He said:
Despite these highly unusual circumstances, we continue to celebrate the achievements of our young colleagues in acquiring future-proof skills to take Scotland's print industry forward.

Our members have demonstrated throughout the COVID-19 lockdown that print is an essential element in a civilised society. That in itself tells us that the print industry in Scotland has a real future across a range of skillsets and needs a constant flow of high-quality and motivated apprentices in even greater numbers, and from an increasingly diverse range of backgrounds, to fulfil its potential.
The awards were sponsored by Muller Martini and their sales manager David McGinlay said: "Muller Martini is always happy to support training, especially Apprentice training. It's in our DNA to train and bring new blood into our industry. I have a personal interest in the Print Scotland Apprenticeship scheme, as I am a product of a Print Finishing Apprenticeship. It stood me in good stead throughout my career. We look forward to continuing our support for this valuable scheme in the future."
Print Scotland provides training for Modern Apprentices through the Scottish Training Scheme, which provides a grant from the Scottish Government to cover the cost of the training. It also provides a range of Scottish Vocational Qualifications (SVQs) as well as Modern Apprenticeship (MA) certification.
More about this year's Winners
Marcus Urquhart
21, from Peebles, winner of the Overall Apprentice of the Year Award, which is sponsored by Antalis, HP, Muller Martini and Print Scotland, works at Caledonian Ivanhoe in Musselburgh. Marcus is part of an accurate and knowledgeable Pre Press team, responsible for the pre flighting of design work and checking all the elements necessary for a successful print run.
Elizabeth Paul
22, won the accolade of Print Administration Apprentice of the Year, an award sponsored by Print Scotland. Elizabeth, known as Beth, is 22 and hails from the southside of Glasgow. She has worked for 3 years at Bell & Bain in the Costing and Estimating department for customers who require conventional or digital books and intends to develop further her career in the print industry.
Scott McNee
24, from Glasgow, won the Level 3 Post Press Apprentice of the Year Award. This award, sponsored by Muller Martini, relates to post pressing work, namely mechanised print finishing. Scott is a Folding Machine operator producing large format book sections for the binding production systems at Bell & Bain.
Bradley Melvin
24, originally from Durham, before moving to Scotland to study, won the Level 3 Pre Press Apprentice of the Year Award, which is sponsored by Antalis and HP. This category celebrates outstanding skill in the pre-printing aspects of the trade, such as graphic design, digital print and origination. His skill set also requires the operation of print finishing equipment and he works for JJR Print in Dumbarton.
Russell Williamson
19, from Dumfries and who works for Alba Print in the town, won the Level 3 Press Apprentice of the Year award which is sponsored by Muller Martini. Press is the category covering sheet-fed lithographic printing. Russell has shown great aptitude and has recently progressed from a 2 colour Ryobi offset printing press to the company's 5-colour B2 Kamori Enthrone producing high quality work.