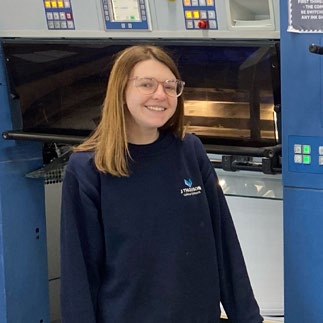 A word to the wise set Hazel Linden on the road to her dream career when a friend, the Digital Print manager at Glasgow-based J Thomson Colour Printers, recommended that she try for an apprenticeship at the firm where she is now in her third year of lithographic printing training.
Hazel Linden, 25, who lives in Glasgow's Dennistoun, had explored a number of career options, including acting and working in a law firm, before settling into her role of printing products such as leaflets, brochures, programmes and calendars. She said:
"In lithographic printing an image of the content you want to produce is placed on an aluminium plate which is then covered in ink and transferred to the sheet. This process can be used to print on paper, cardboard or other materials and is the most economical way to print books, brochures, leaflets and a huge range of other items.
"My work involves running an operational KBA lithographic printing machine the size of a ship. Some of my daily tasks include filling ink ducts, locating materials, changing rollers, adjusting roller settings, blanket changes and operating machinery using computerised technology.
"Seeing my print work in real life settings like a banner, poster or as a restaurant menu, for example, gives you a real sense of pride and I would recommend an apprenticeship to others, though it depends on the individual as you need an open mind. I never thought I would work in a printing plant, but I was willing to give it a go and really love it.
"At the moment, a qualified printer will supervise and oversee my work to double check everything but eventually I will run it once I am qualified. I really like the job and the people I work with, though I am the only female in the team, which I found rather surprising.
I am also a mental health first aider – a role the company established during the pandemic – and there is now one in every department. My immediate goal is to qualify and work hard, perhaps eventually seeking a role in management.
Kevin Creechan, Managing Director of J Thomson Colour Printers, employs 120 people in Tradeston and currently has four apprentices, whom he said bring a continuity of the craft and a youthful vibrancy to their work. He said: "Hazel is doing extremely well and is certainly up to the task. She is strong both physically and in her character but, above all, she has a desire to succeed and is always on the front foot.
"She fitted in very well with her colleagues and is still learning. She lost six or seven months of experience due to Covid but has done exceptionally well in recovering that time. Particularly, she has a hunger to learn her trade and become expert in it. Her attitude is exactly what we love to see.
"We like to be able to guide our apprentices into the correct way of working and in acquiring the right skills, including workplace awareness issues like Health and Safety.
"We are always looking for more people, and applicants can get in touch with anyone, including me, or contact us through our website".