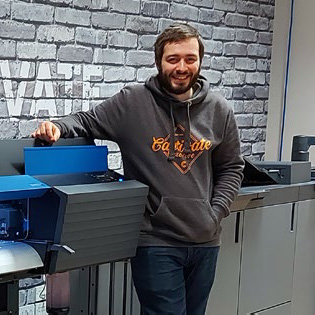 Printing runs in Christopher Dinnes's family – his grandfather, grandmother and uncle all are, or have been, in the industry. So, it was only natural that when the possibility of an apprenticeship in his uncle's firm came up, he was the first to apply.
The 23-year-old from Armadale in West Lothian is now in his first year doing SVQ Press at SCQF Level 3 in his uncle Andrew Dinnes's Livingston-based company Captivate Creative, which specialises in short run digital printing, signage, banners, flags, exhibition products and branded merchandise. Christopher said:
"Despite the fact that so many members of my family have been in the trade, I never really realised the variety that comes under the heading of print. So far, I have been involved in digital, wide format and finishing.
"What has surprised me is the scale of the business and how accurate you have to be throughout the process. So much thought goes into every production to make it as perfect as possible.
"I now want to progress my skills and get to point where the work produced is as good as It can be. In five years, hopefully, I would like to be in a management position, leading other employees and apprentices and sharing opportunities with other young people like me."
Andrew Dinnes has three employees engaged on digital and large format print, and a large client base within the hospitality and events sector. He said: "Christopher has been thrown in at the deep end and has been exposed to all parts of the business and the full range of processes we use.
"It is a small business, so he is not focused on any one single machine. He operates the digital press, the wide format press and various pieces of finishing equipment – folding machines, guillotines and various other machines. The intention is that that he will have a rewarding career at end of his apprenticeship.
"I have been impressed by his youthful willingness to learn new skills and his eagerness to take part in an industry that certainly is in need of fresh talent. I will certainly be happy to go down the apprenticeship route when I am hiring in the future."